Visitors are encouraged to also view the Epieus Page as the Projects are closely related in both geology and locality. Do so Here.
The Kaburi Project is located 4 kilometres northeast of the currently operating Smarts Mine. The Smarts and Hicks Mines (Karouni Project, 100% Troy) were formerly known as the West Omai deposit, which was discovered in 2011 by Azimuth Mining who delineated 16.7Mt @ 3.1g/t Au for 1.65Moz of gold. Dominic O'Sullivan who is the executive chairman of Tajiri Resources founded Azimuth Mining, which was acquired by Troy Resources in 2014 for US$165M.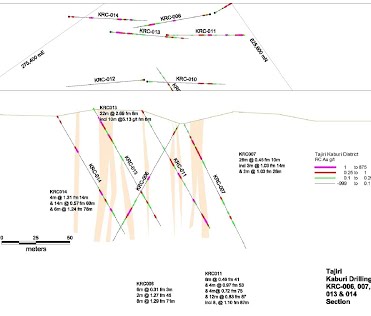 The Kaburi project comprises 6 medium-scale tenements covering 2597 hectares (26 km2). The right to explore the tenements has been granted through a contractual agreement with the tenement holders. The topography undulates between 50m and 130m above sea level and is largely covered by tropical forest. White sand up to 4m thick and minor laterite occur along the ridge lines. Weathered bedrock (saprolite) is exposed in creeks that that incise and drain the ridge lines.
Creeks in the area have been a major focus for alluvial gold mining. In places, gold has been won from weathered quartz veins hosted by saprolite. At the Smarts and Hicks deposits, gold mineralisation is hosted by quartz veins controlled by steep northwest-trending shear zones. Similar gold-bearing quartz veins occur in the project area, subparallel to the Smarts-Hicks Shear.
Samuel's Prospect
The Samuels Prospect is located close to the northern boundary of the project area along the inferred Aurora-Gem Creek Shear. In 2013, Tajiri Resources undertook a 3,100m 33 hole RC drilling program targeting a northwest-trending mineralised zone identified during a 2012 soil sampling program. The RC drilling program intersected variably mineralised mafic and felsic volcanics in saprolite and fresh rock. The saprolite extends for 30-40 metres below surface.
The best results returned from the 2013 RC program included;
22m @ 2.69g/t Au from 8 to 30m, including 10m @ 5.13g/t Au from 8 to 18m (KRC-13-13);
8m @ 6.48g/t Au from 6 to 14m, including 2m at 25.50g/t Au from 6 to 8m (KRC-13-25) and
11m @ 1.27g/t Au from 7 to 38, including 11m @ 1.08g/t Au from 5 to 16m and 2m @ 4.06g/t Au from 37 to 39m (KRC-13-32)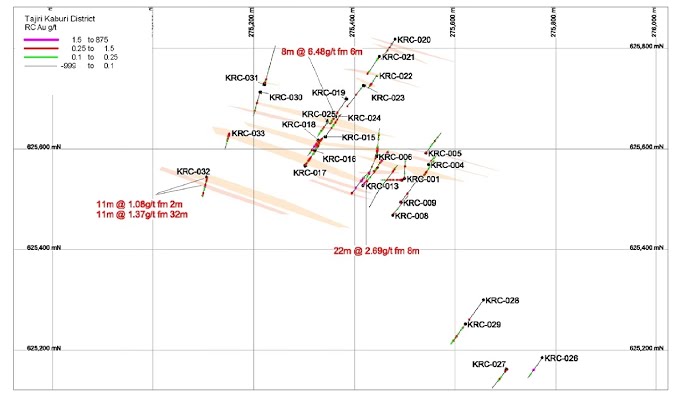 The 2013 drilling program was successful in identifying a northwest gold mineralized trend on the Kaburi Project. This trend remains open on strike for follow up exploration. In 2016, Troy Resources commenced an RC drilling campaign in the Gold Star area, 1.5km northwest and along strike of the Tajiri RC drilling. Their results have allowed for the reinterpretation of the Company's 2013 drill program and greatly enhanced the potential of the Samuel's Prospect by identifying the mine unit within the area. It can therefore be concluded:
Previous Tajiri drilling was oblique to strike 35⁰-40⁰ and therefore did not adequately test the mineralised contact with most holes missing the contact.
Only 4 drill holes actually tested the contacts and all hit.
9km of highly prospective strike now remain to be tested within the Kaburi License by drilling and trenching and may quickly define a new satellite resource that would be complimentary to the Karouni Mine Operations.